BALLOON CANDY CUPS
GLITTER / TEMP TATTOOS
ANIMAL BALLOONS/ DECOR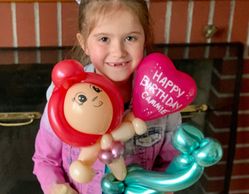 New this year to our service repertoire is the fun and oh-so-cute balloon candy cups.
These clever creations are 24 oz. cups of high-quality brand named candy (chocolate and peanut-free options). With an awesome balloon sculpture on top, it is a great addition to any one of our event services or as a standalone delivery for a special someone.
Special pricing for large quanties
Cups range $10-$20 each. Depending on complexity of characters and amount of cups purchased. please send a quote request today!